Glasses are an essential part of many people's daily lives, but not everyone knows how they should really fit. In this blog, we'll be discussing the importance of properly fitting glasses and how you can make sure your glasses fit properly.
First, let's talk about why proper fit is important. Glasses are designed to correct vision and improve visual acuity, but if they don't fit properly, they can actually cause more problems than they solve. Ill-fitting glasses can cause headaches, neck and back pain, and even blurred vision.
But it's not just about the potential health risks – properly fitting glasses can also improve your overall quality of life.
When your glasses fit properly, you'll be able to see more clearly and comfortably, which can make tasks like reading, driving, and using a computer much easier. Additionally, properly fitting glasses can enhance your appearance and boost your confidence.
They Should Be Comfortable
First and foremost, the glasses should fit comfortably on your face. If they are too tight, they can cause discomfort and even headaches. On the other hand, if they are too loose, they can slip down your nose or even fall off completely.
The ideal fit is one where the glasses feel snug but not tight, and where they don't move around on your face.
Make Sure They Fit Your Nose
Another important factor to consider is the fit of the glasses on your nose. The glasses should sit comfortably on the bridge of your nose, with the frames resting gently on your face.
The nose pads should be snug but not tight, and they are often adjustable so that you can customize the fit to your own nose shape.
They Should Fit Your Ears
It's also important to make sure that the glasses fit properly around your ears. The earpieces should be comfortable and not cause any discomfort or pain. The arms of the glasses should be adjusted so that they rest comfortably on your ears without causing any discomfort or pain.
Lens Position Matters
Another important aspect of the fit of glasses is the distance between the lenses and your eyes. This is known as the "fit to face" or "PD" (pupillary distance) measurement. The lenses should be positioned correctly in front of your eyes so that you can see clearly and comfortably.
The optical centre of each lens should be in the centre of each pupil when you look straight ahead. This is critical if you want your glasses to fit and function properly.
If the lenses are too close to your eyes, you may experience discomfort and headaches, and if they are too far away, you may have trouble seeing clearly.
It's important to note that glasses bought online typically have the prescription right at the centre of the lens, and are not correctly measured to where your eyes sit. Visiting your knowledgeable optician will help ensure your glasses are properly measured and fit to your face.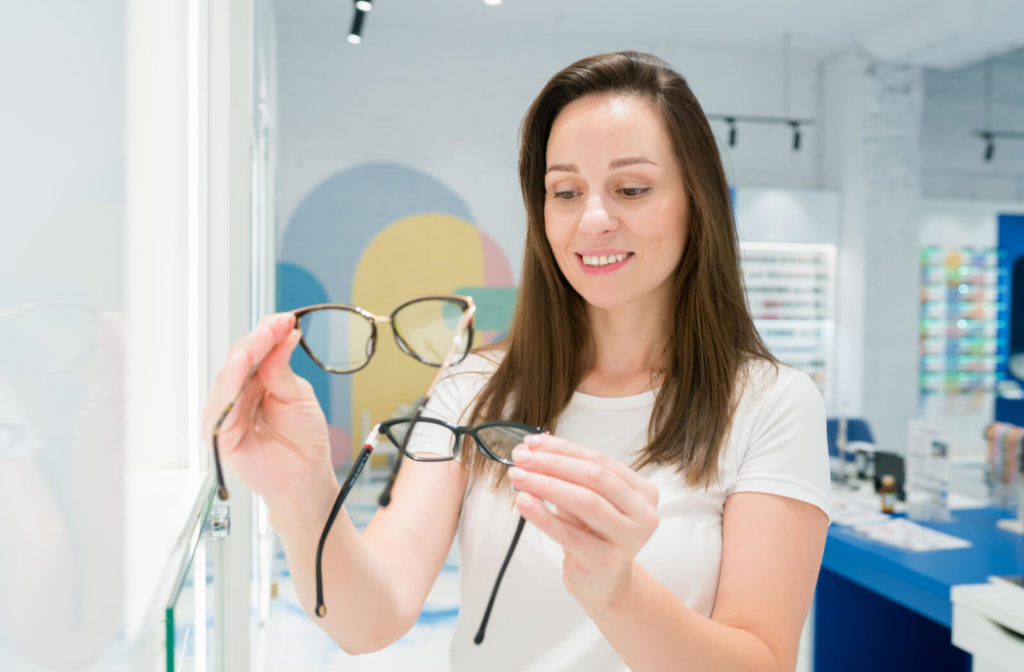 Make Sure They Suit Your Face
The final factor to consider is the overall size and shape of the glasses. The frames should be the right size and shape for your face, and they should be proportionate to your features.
If the frames are too small, they may not provide enough coverage for your eyes, and if they are too large, they may be uncomfortable and look disproportionate on your face.
Different Face Shapes
There are several different face shapes, including round, oval, square, and heart-shaped. Each face shape has its own unique characteristics, and the right frames can help to flatter and balance out your features.
For example, if you have a round face, you may want to choose glasses frames that are more angular to help balance out the roundness of your face. Square frames or frames with a clear bridge can be a good choice for round faces.
If you have an oval face, you're in luck. Oval faces are considered to be the "ideal" face shape because they are balanced and symmetrical. This means that most glasses frames will look good on you. You can experiment with different styles and shapes to find the perfect pair for you.
Square faces have sharp, angular features, and the right glasses can help to soften and balance out those angles. Round or oval frames can be a good choice for square faces.
Heart-shaped faces are characterized by a wider forehead and a narrower chin. To balance out this face shape, you may want to choose frames that are wider at the bottom to help balance out the forehead. Cat-eye frames or frames with decorative temples can be a good choice for heart-shaped faces.
It's important to remember that these are just general guidelines. Ultimately, the right glasses frames for you are the ones that make you feel comfortable and confident. Experiment with different styles and shapes to find the perfect pair for your face.
Ask For Help If You Need It!
Properly fitting glasses are essential for maintaining good vision and preventing potential problems. If you're not sure how to properly adjust your glasses, don't hesitate to ask for help.
Many opticians and optometrists are happy to help you adjust your glasses to ensure a proper fit. If you're shopping for new glasses, be sure to try on several different pairs and make sure they fit properly before making a purchase.
If you're worried about how your glasses are fitting, or you'd like help picking out the perfect pair for your face shape, book an appointment with us! The team at Visionary Eye Centre would love to help you pick out your next pair of frames.