Your child's vision is an important part of how they learn, play, grow, and develop. Regular eye exams allow the optometrist to monitor and detect visual issues before they become a larger problem.
During a kid's eye exam, you can expect the use of tools such as a phoropter or autorefractor and vision tests like a refraction assessment or visual acuity test to determine if any visual conditions are present.
Our compassionate and hardworking team at Visionary Eye Centre is happy to perform your child's eye exam, so please don't hesitate to contact us today and book your appointment.
How Often Should You Book a Kids Eye Exam?
The Canadian Association of Optometrists has released the following information about the frequency at which a child should be getting an eye exam:
One eye exam between the ages of 6 and 9 months old
One eye exam every year from age one and older
It's important to note that Alberta Health Services cover children for annual eye exams until the age of 19.
The frequency of getting an eye exam may change for your child based on several related factors. Here are a few reasons why your child might need an eye exam sooner or more frequently:
Doctor's recommendation
Family history of eye-related issues
Squinting or frequent eye rubbing
Difficulty with reading or seeing things that are farther away
Headaches or discomfort in their eyes
If your child is experiencing any of these symptoms, consider booking an appointment and getting their eyes checked today.
What to Expect During the Exam?
Before the Exam
Before your kid's eye exam, the doctor may ask some general health questions like:
Has your child shown signs of discomfort or agitation in their eyes?
Does your family have a history of vision conditions or eye diseases?
Does your child have any allergies?
Following some general questions, your doctor may perform several tests to help determine if your kid has any eye conditions like nearsightedness, farsightedness, or astigmatism.
During the Exam
During an eye exam, your child may experience one of the following tests designed to help your doctor determine if any changes have happened in your eyes.
Eye Muscle Test
During an eye muscle test, the doctor will use a pen, light, or other objects to move in front of your vision while examining the movement of your eyes. It can help them to determine any muscle weakness or poor coordination.
Visual Acuity Test
The visual acuity test is a commonly performed test using a chart with letters slowly decreasing in size. Your goal will be to identify the letters from a distance away to test the clarity of your vision.
Refraction Assessment
A refraction assessment may involve looking at a chart and using a phoropter that changes lenses to find out which one is helping you to see better or not. The answers to your exam can help your doctor to determine the right prescription for your eyes.
Visual Field Test
A visual field test is typically performed to find out information about your overall field of vision and if you have difficulty seeing anywhere in that field. Your doctor may elect to use one of the few variations of this test.
Colour Vision Testing
If your doctor is worried your child may be having difficulties identifying colour, they will perform a colour vision test. A typical examination includes showing multicoloured dot patterns with numbers or letters hidden within that can be identified if you don't have any colour vision issues.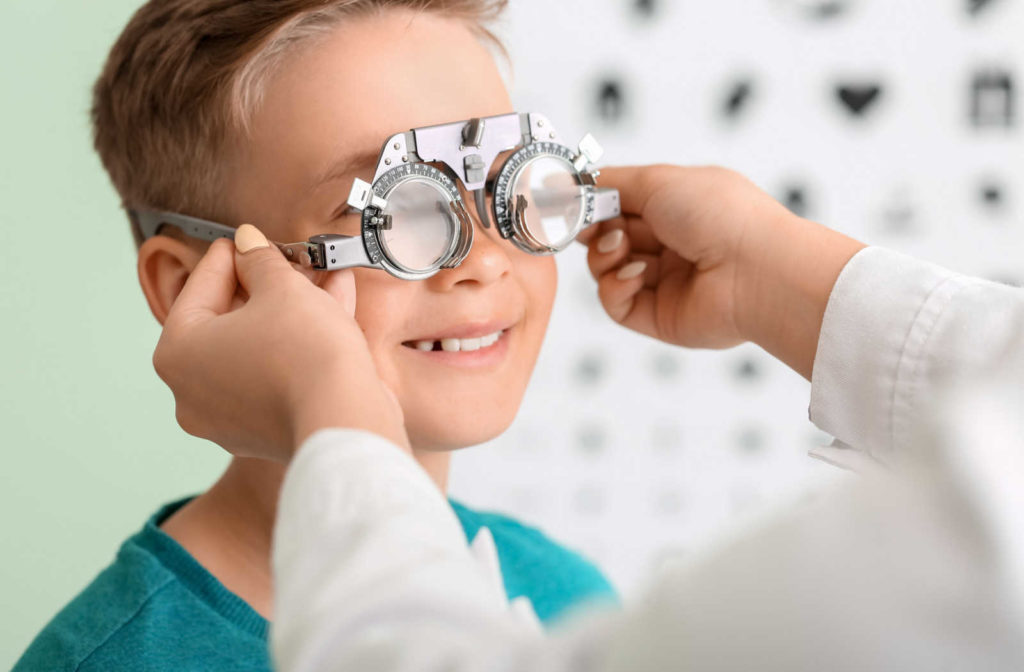 How Kid's Eye Exams Change Based on Age
As kids develop and engage in new activities, their eyes will change, and symptoms or conditions may become more present. Here are a few differences you might encounter during an eye exam based on your child's age.
Infant Eye Exams
An infant eye exam allows the optometrist to check for signs of misalignment or other visual conditions that can occur early on. Here are some of the tests that you might expect to see:
Eye movement check
Light reaction test
Preschool-Aged Children's Eye Exams
As they engage in more activities, pre-school-aged children can expect more comprehensive tests during their eye exams. Some typical tests might include:
Visual acuity test
Lazy eye test
Colour vision test
Eye movement tracking
Other ocular health issues
School-Aged Children's Eye Exams
School-aged children are advised to book regular eye exams each year to have their eyes examined for visual issues. Some of the common things that are looked for in a typical exam include the following:
Visual acuity
Eye focusing
Eye tracking
Eye-hand coordination
Visual perception
Book an Eye Exam
At Visionary Eye Centre, we are compassionate about eye health and helping our patients to achieve good vision. If your child is nervous about their eye exam, please give us a call today and book a consultation to learn more about the process.