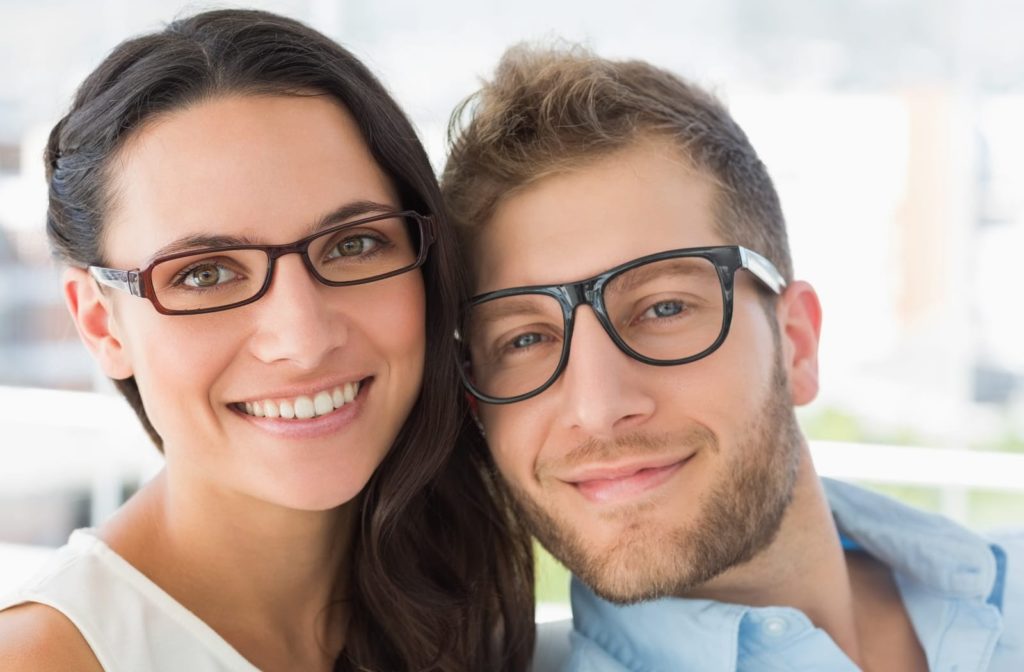 Glasses are more than just a tool to help you see; they're an extension of your unique personality and fashion sense! Because of this, some thought has to go into choosing your glasses, including the style, colour, and finally, the size.
Today, we're going to take a look at the different face shapes and their matching glasses shape to make sure the frames you pick look fabulous every time you put them on.
We even have an online tool you can use to help find the perfect frames before you come in to start shopping! Once you've found your frames, please visit us and we will help you match them to your prescription.
Let's dive in!
Face Shapes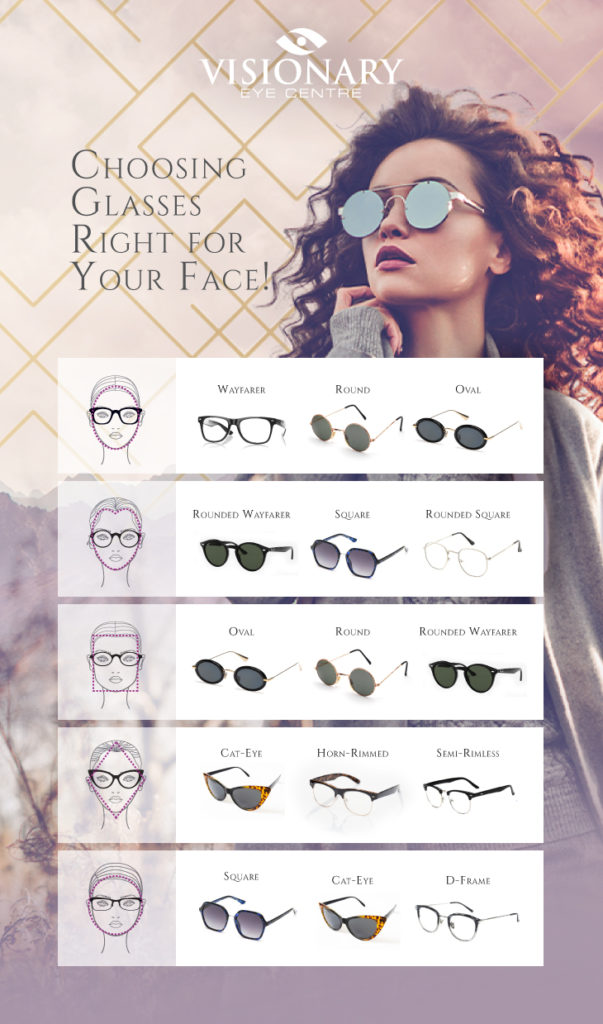 Oval Shape
Oval-shaped faces are unique in their ability to match with nearly every type of frame style available. The oblong shape combined with high cheekbones makes these faces perfect for bold styles, especially frames wider than the face itself.
Some of the best frame styles for oval-shaped frames include:
Wayfarer
Square
Round
Horn
Oval
Heart Shape
Heart-shaped faces are wider near the brow and forehead and narrow at the jaw. This type of face shape is best suited for glasses that aren't oversized, as the extra width could make the top of the head unbalanced from the rest of the face. Try picking frames that aren't oversized and full of intricate designs.
Some of the best frame types for heart-shaped faces include:
Rounded Wayfarer
Square
Rounded Square
Oval
Square Shape
Square-shaped faces are virtually equal in width from forehead to jaw. Choosing the frame style best for you can be difficult since angular frames might not compliment your face shape quite as well. For the most part, we recommend looking at circular or rounded glasses to help balance your face's angles.
Some of the frame styles include:
Oval
Round
Rounded Wayfarer
Diamond Shape
Diamond-shaped faces are narrowest at the forehead and jaw, and widest at the cheekbones. These dramatic angles give plenty of versatility to what type of frames would look best on you. Generally speaking, glasses with a lot of design flair look great on this face shape, including:
Oval
Horn-Rimmed
Cat-Eye
Rectangle
Rimless or Semi-Rimless
Round Shape
Round-shaped faces, sometimes known as "babyfaces," have lots of soft, round features that are great for keeping you looking young and full of life. However, round faces have a uniformity in its shape that might be best suited for angular-looking frames that purposely off-set this uniformity.
Some great frame styles you can look at could include:
Rectangle
Square
Cat Eye
D-Frame
Choosing the Colour of Your Glasses
Now that we've looked at what type of glasses would naturally fit best for your face shape, the next step is to take a look at frame colours and what would match best for the colour and tones of your eyes, hair and skin.
Of course, style and personal tastes are all subjective, and there's a chance that the colours we recommend here might not match others. The only way to know for sure is to visit us and experiment with new types of frame shapes and colours today!
Skin Tone
Choosing glasses to match your skin tone isn't nearly the daunting task you might think it is. There are only a couple of things to keep in mind when shopping for glasses that would look fabulous with your skin tone:
All skin tones look great in both warmer and cooler colours, but specific colours might complement your look better than others.
For lighter skin tones, look for cool colours like pink, blue, beige, or even light brown. Are you looking for a warmer look? Try brown, tortoiseshell, or even bold colours of red or purple.
For darker skin tones, cool colours that might look great include purple, black, or blue hues. Warmer colours could be gold, dark browns, or tortoiseshell.
Eye Colour
If you're looking for glasses to suit your beautiful eye colour better, the general rule to follow would be to match the frames to a similar colour to your eyes.
Blue eyes look wonderful in blue, gray, or translucent colours.
Brown eyes compliment earthy tones like brown, green, and gold.
Green eyes follow similar patterns as brown eyes but also accommodate more dramatic tones like purple or even pink!
Hazel eyes are incredibly versatile and can match virtually any frame colour. We recommend looking at green, gold, clear, and gray frames to really make your eye colour pop.
Hair Colour
If you're looking to match your frames to your hair colour, you're in luck! There are so many different options available to choose from that there is practically no wrong decision to make when choosing your frames based on your hair colour.
Some of our recommendations include:
Sticking to darker colours like browns and blacks if you have light brown or blonde hair.
Trying on brighter colours, like green, red, or gold if you have dark brown or black hair.
Looking at cooler colours like blues and greens for red hair.
Wearing warmer tones like reds and purples if you have white or gray hair.
Start Seeing & Looking Your Best Today!
Our team is ready to help you find your dream pair of glasses. Please, request an appointment with us and start your journey towards incredible vision and fabulous style today!