Genetics & Macular Degeneration
Vision and eye health can be affected by multiple factors, from your environment to your lifestyle. During an eye exam, your optometrist tailors the assessments for your unique eyes and needs.
Macular degeneration is an eye disease that causes central vision loss. It can impact your ability to read, drive, or recognize objects. Retinal imaging can help in the diagnosis of macular degeneration. But knowing if you're at risk for developing the disease can help with prevention and eye care.
Generally, practicing eye hygiene habits can benefit your sight. Yet, there are some specific risk factors you should know about—including the role genetics plays in retina health.
What Is Macular Degeneration?
Macular degeneration is an eye disease affecting macula health and function. The macula is a part of the retina (tissue at the back of the eye) responsible for colour and detail vision. When the macula is damaged, it can cause various symptoms depending on the stage of development.
Some common symptoms include:
Blurry vision
Decreased central vision
Difficulty seeing in low light
Distorted lines or shapes
Trouble recognizing faces
Macular degeneration is also called age-related macular degeneration (AMD), as it is more likely to occur as you age. In North America, AMD is the leading cause of blindness in adults over 55.
Macular degeneration has 2 stages or forms: dry and wet.
Dry or atrophic AMD is the milder, most common form. Symptoms develop slowly as the macula thins. Tiny deposits of protein and lipids (drusen) form under the retina. Larger or growing deposits can signify dry AMD. Dry AMD can progress over several years, typically in 3 stages: early, intermediate, and late.
Wet or exudative AMD is the more severe and rapid-developing. It is always considered a late-stage form. Although wet AMD accounts for only 10% of cases, dry AMD can develop into wet AMD over time.
Wet macular degeneration occurs due to abnormal blood vessel growth under the retina. A sudden leakage or bleeding from the weak blood vessels causes macula thickening and scarring.
What Causes AMD?
The risk of developing macular degeneration increases with age, but additional factors exist. A diet rich in antioxidants, vitamins, and omega-3 fatty acids can help prevent dry AMD. In addition, practicing sun safety, including sunglasses, can reduce your risk of AMD, as UV light can cause retina damage.
You're also more likely to develop AMD if you:
Are overweight
Frequently eat foods high in saturated fat
Have blue eyes
Have a family history of AMD or retina disorders
Have heart disease or high cholesterol
Have high blood pressure or diabetes
Smoke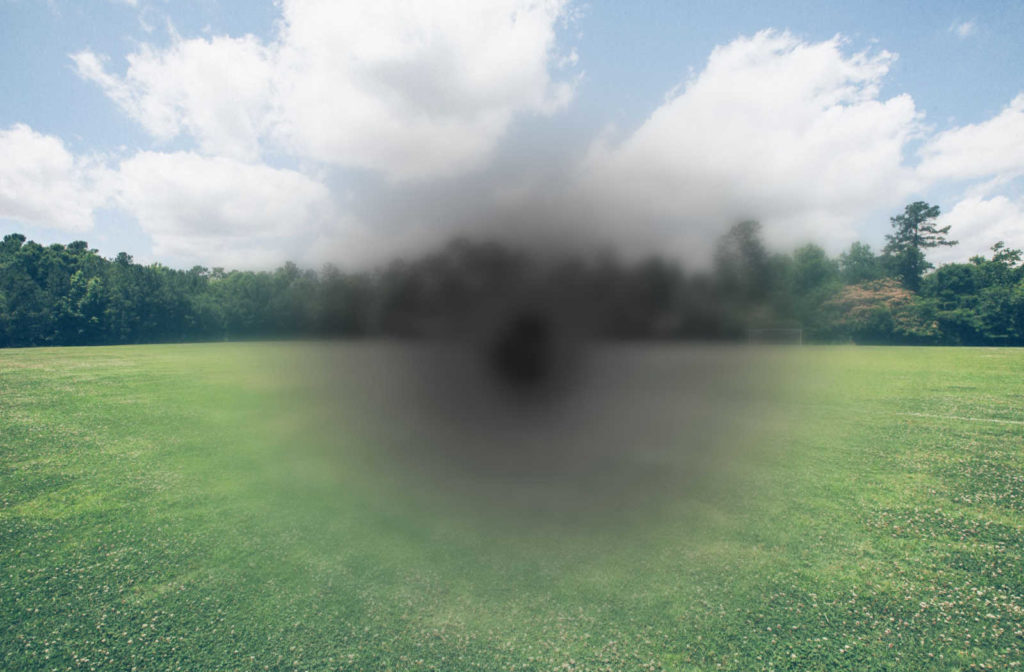 AMD & Heredity
If you have a family history of macular degeneration or inherited retinal diseases (IRDs), you have a higher risk of developing AMD. IRDs can affect people of any age and are degenerative diseases that worsen over time.
Studies have identified over 30 genes associated with the risk of developing AMD. In particular, 2 genes have been closely connected to the risk of initial development and disease progression:
Additional research also focuses on how genes affect known AMD risk factors, such as inflammation and immune mechanisms. Researchers have considered genes involved in DNA repair, cell communication, collagen production, protein binding, and metabolism (cholesterol and fats). Inheriting traits related to these factors may increase your risk of AMD.
As a result of the role genetics plays in AMD risk factors, macular degeneration often runs in families. AMD is also more common among some ethnicities, including people of Asian or European ancestry.
Managing Macular Degeneration
Managing risk factors is crucial for preventing macular degeneration. While aging and genetics are significant risk factors, you can also practice a healthy lifestyle and nutrition to protect your eye health.
Currently, no treatment is available for early-stage dry AMD, so prevention and eye health monitoring is essential. Patients with intermediate-stage dry AMD may benefit from taking AREDS 2, a dietary supplement that can help slow disease progression.
There are effective treatment methods available for wet AMD, including:
Anti-VEGF injections – medication injected to slow the growth of abnormal blood vessels and control leakage. Anti-VEGF is effective in preventing vision loss in 90% of patients.
Laser eye surgery – The 2 laser treatment types for wet AMD are thermal laser photocoagulation ("hot" laser surgery") and photodynamic therapy ("cold" laser surgery). Both reduce symptoms by destroying abnormal blood vessels and sealing leakage to prevent macula deterioration.
Talk to your optometrist to stay informed about updated research or new treatments for macular degeneration. Your optometrist can also recommend personalized eye care tips.
Protect Your Eyes with Exams
Knowing your risk factors and visiting your optometrist for regular eye exams can help protect your sight. At Visionary Eye Centre, our goal is to provide preventative eye care and comprehensive education to support your vision. Visit us to discuss your eye health.