Contact lenses provide crisp, clear, comfortable vision without worrying about breaking or losing your designer eyeglasses. While you may love the look of your frames, they might not always be the best choice when you go out for a night on the town or spend the afternoon playing games at the family barbecue.
However, there may be moments when you struggle with eye comfort while wearing contacts. And while these moments can be annoying and irritating, there are a few ways to help you get back to the comfort you deserve—one of these being eye drops.
Several types of eye drops are available to help keep your eyes comfortable, even while you wear contact lenses. Let's look over what issues may affect your contact lens comfort and the eye drops our team might recommend to help you find relief.
As always, please feel free to get in touch with us if you have any questions regarding your contact lenses, eye comfort, vision, or eye health. We'll be happy to have you in for an appointment so we can go over your eye care needs and find strategies that work best for you, your eyes, and your lifestyle.
Why Are Your Contacts Uncomfortable?
Before we look at what types of drops we recommend to help manage eye discomfort, let's look at why your contact lenses may irritate your eyes.
Below are some of the most common reasons why your contacts might not provide you with the comfortable vision you'd usually expect. However, before looking for eye drops to manage your symptoms, we recommend requesting an eye exam first. Our team will be happy to look at your vision and eye health to determine what may be causing your discomfort and provide strategies to help you find relief.
If your contacts are irritating your eyes, some of the most common symptoms can include:
Redness
Wateriness
Light sensitivity
A feeling of something stuck in your eye
Blurry vision
If you notice any of these symptoms, please remove your contacts. In some cases, cleaning or replacing your contacts can help address these issues and get you back to enjoying clear, comfortable eyesight.
If you don't yet wear contact lenses, a comprehensive contact lens exam and fitting can help you discover the ideal for your eye care needs to achieve optimal lens comfort. You'll also learn how to care for and maintain your lenses to ensure your eyes stay healthy and happy.
During this appointment, your optometrist will determine your candidacy for contact lenses and look for potential issues affecting your vision, eye health, and comfort while wearing contacts. You might not have these issues at the time of your exam and fitting, but you could still develop them over time and experience uncomfortable symptoms.
Some of these issues can include: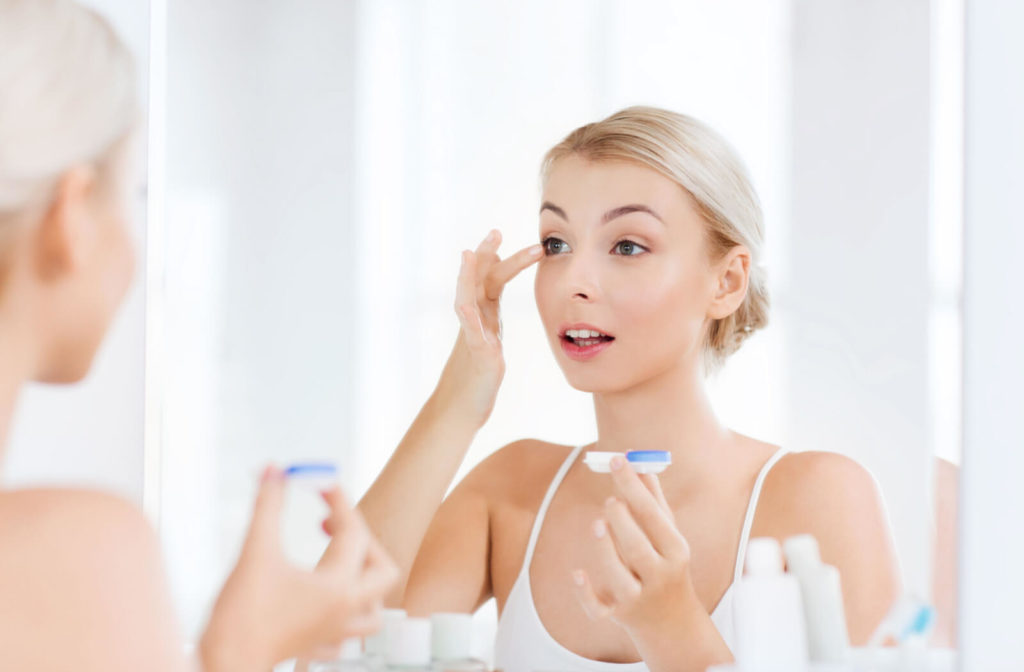 Keratoconus
Keratoconus is an eye condition that occurs when your cornea thins and bulges outward. Over time, it can affect your vision quality and eye comfort, especially if you wear traditional contact lenses.
To help address this issue, we may recommend specialty contacts like scleral lenses. Scleral lenses are larger than traditional contacts and rest on the whites of your eyes. The size helps the centre of the lens "vault" over your cornea while providing you with clear, comfortable vision.
Dry Eye Syndrome
Dry eye syndrome is a common issue many Canadians face, making contact lenses much more uncomfortable to wear.
If you struggle with dry eyes before getting contact lenses, we can recommend a few strategies to address your symptoms so you can wear contact lenses comfortably. In some cases, we may recommend specialty contact lenses that can also manage your dry eye symptoms.
Allergies & Infections
Allergies and frequent eye infections can seriously affect your eye comfort while wearing contact lenses.
If your symptoms are mild, we can work together to find some solutions to help manage your symptoms and keep you in your contacts.
However, if your symptoms are severe enough, we might recommend avoiding contact lenses altogether, at least until we can find the cause of your infections or get your allergies under control.
Environmental Factors
Living and working in a dry, dusty, or windy environment can dry out your contact lenses and irritate your eyes. However, if you can comfortably wear contact lenses in most other environments, we may recommend rewetting eye drops to maintain your eye comfort in dryer, dustier conditions.
Types of Eye Drops
The key to maintaining your eye comfort while wearing contact lenses is keeping up with your regular eye exams and properly caring for your lenses. However, if you struggle with irritating symptoms or your contact lenses constantly dry out, we may recommend a few different eye drops to address your symptoms.
It's important to know that not all eye drops are compatible with contact lenses, so please speak with our team before you purchase and use any over-the-counter products. Sometimes, we may need to recommend a prescription eye drop to better support your eye health.
In any case, the most common eye drops we recommend for managing contact lens discomfort include:
Contact Lens Rewetting Drops
Rewetting eye drops, also known as contact lens drops, are specifically designed to rehydrate your contact lenses while you wear them. These drops also help wash away any irritating dirt and debris that might have found its way onto or under your contact lens.
These drops are quite different from contact lens cleaning solutions. Make sure only to use rewetting eye drops on your eyes. Please do not use your contact lens cleaning solution on your eyes.
Dry Eye Drops
Dry eye drops are specifically designed to help manage dry eye symptoms according to the type of dry eyes you have.
These drops may be thicker than other eye drops and can possibly cloud or "gum up" your contact lenses, so please make sure you're using the product our team recommends before purchasing over-the-counter products.
Medicated Eye Drops
You may use medicated eye drops to help address eye infections, eye diseases, or even eye injuries. Because of their complex ingredients, we generally do not recommend wearing your contact lenses while using these eye drops.
In some cases, we recommend not wearing contact lenses while undergoing a treatment that requires medicated eye drops.
Caring for Your Contact Lenses
One of the best ways to help avoid eye discomfort is to ensure you're properly caring for your contact lenses.
Here are some tips we typically recommend to both new and experienced contact lens wearers:
Never use saliva to clean your contact lenses. Only use the contact lens solution recommended by our team.
Make sure you wash your hands and dry them with a lint-free towel before handling your contacts.
Store your contacts in lens solution; never water.
Clean your contact lens case with lens solution each time you store your lenses.
Replace your contact lenses regularly to reduce your risk of developing an eye infection.
Replace your contact lens case every 3 months.
Need Relief? Call Today!
The key to clear, comfortable vision is to make sure you visit us for regular eye exams, especially if you wear contact lenses. Request your next appointment with the team at Visionary Eye Centre, and discover how we can support you and your family's sight!