You might feel fine on a sunny day wearing sunglasses, but when you take them off—bright, blinding light. You may wonder if everyone's vision is as affected as yours in the sun. Your eye colour does, in fact, have an impact on light sensitivity. Blue eyes are more sensitive to sunlight. However, you should always use sunglasses, no matter your eye colour.
Why Is the Sun Dangerous for Your Vision & Eye Health?
"Don't look at the sun" is common advice because it can damage your eyes, but how dangerous is it really?
Ultraviolet (UV) light comes from the sun and some sources of artificial light. While this light can be safe in small doses, overexposure can damage the eye, including your cornea and lens. Without proper protection, your eyes are at risk of severe damage.
While you don't need to avoid sunlight altogether, ensure you bring a pair of sunglasses anytime you're out in the sun, the snow, or driving. Quality sunglasses can help you enjoy the sun safely.
Are Blue Eyes More Sensitive to Sunlight?
Yes, blue eyes can be more sensitive to sunlight. This sensitivity occurs because the eyes are a lighter colour. Brown eyes have more melanin, which has pigments that can protect against bright lighting.
Blue eyes contain much less of this pigment in the front layer of the iris, the coloured part of the eye. Because there's less pigment, the eyes are more sensitive to sunlight and bright artificial lighting.
Having lighter-coloured eyes is a potential cause of light sensitivity, also known as photophobia. Light sensitivity can make it difficult to see or even cause pain in severe cases. Other causes of light sensitivity include:
Corneal abrasion
Dilated pupils
Eye infection
Glaucoma
Cataracts
No matter the colour of your eyes, protecting them from the sun remains important.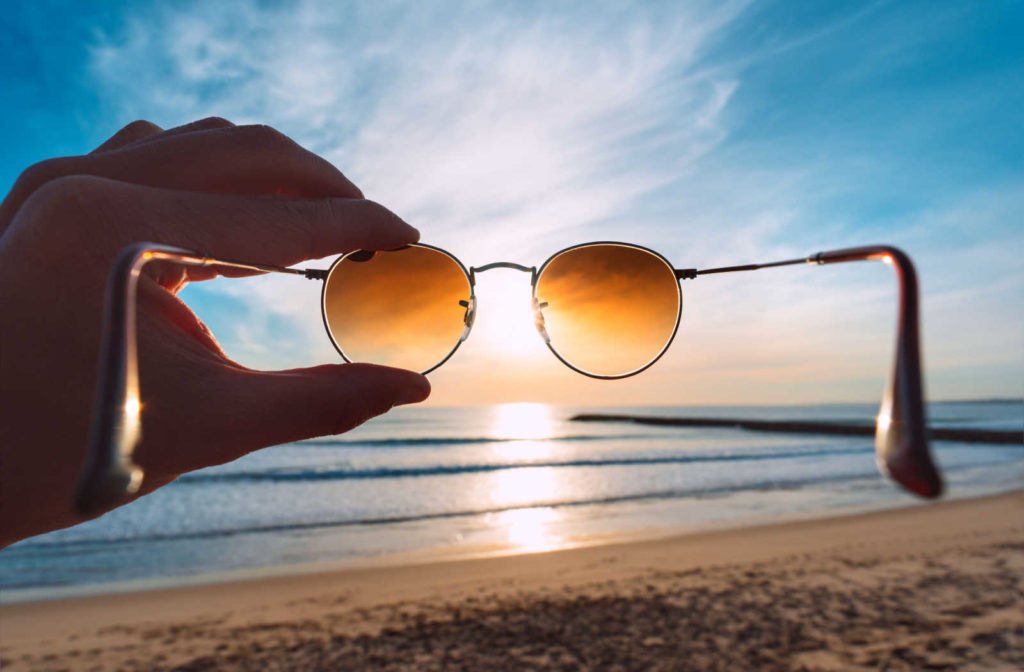 UV Protection Is Important
Many people assume sunglasses are only for the beach or summer, but you should wear them year-round. The sun can damage your eyes whenever you're outside without sunglasses.
Sunglasses can help lower your risk of potential eye conditions, including:
What Sunglasses Should You Buy?
While sunglasses are essential for protecting your vision, not all are created equal. It may seem easier to head to the store and buy a pair of sunglasses off the rack. However, they may not be right for your needs.
You need UV-blocking sunglasses to protect your eyes from the sun. Your sunglasses are an investment, not only in the glasses themselves but in your eye health and vision.
What Do the Right Sunglasses Look Like?
Style-wise, the right sunglasses make you feel comfortable and confident. They should fit your face well without hurting your eyes or nose. Your eye doctor can help you find sunglasses that meet your vision and style needs.
To keep your eyes protected from the sun, look for these features in your sunglasses:
99–100% UV protection
Well-fitting frames
Lenses with consistent darkness
Lenses that don't alter colours too intensely
Find the Right Sunglasses for Your Needs
Whether you're driving or spending time in the sun, sunglasses are the best way to protect your vision and eye health. A pair of UV-blocking sunglasses can help keep you safe year-round. Visit your optometrist, and they can recommend the right lenses for your needs. 
Contact us at Visionary Eye Centre if you're interested in a new pair of sunglasses.