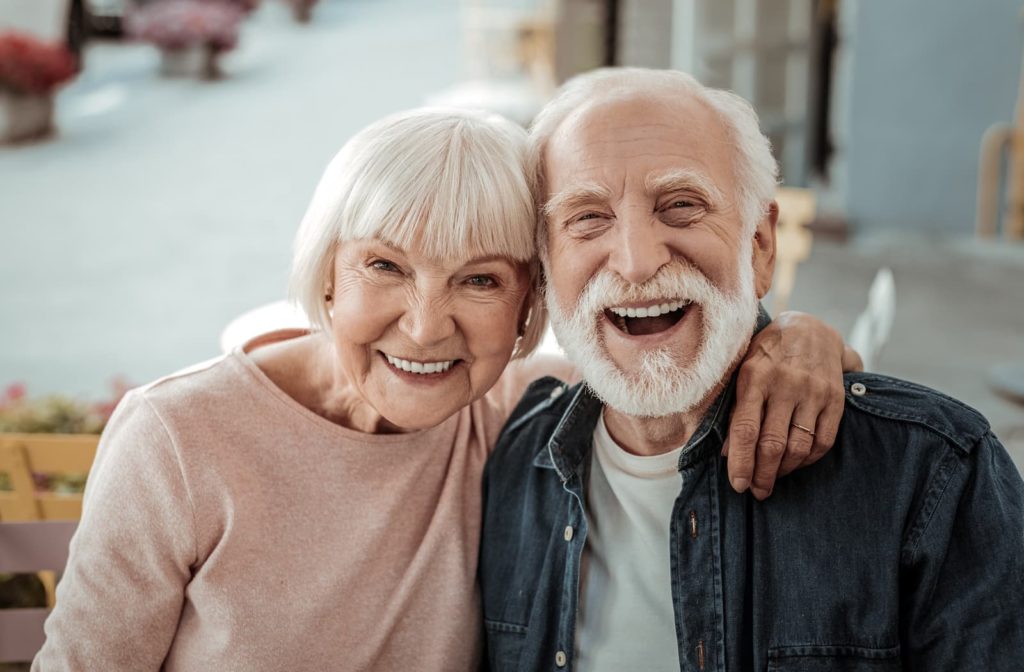 Cataract Diagnosis
Most common in older adults, cataracts are a condition that causes the eye's lens to gradually become cloudy, impairing vision. This clouding is typically caused by age, but UV exposure and other factors such as smoking can increase your chances of developing cataracts sooner. This gradual decrease in the transparency of your eye's lens can make it hard to see the road when driving at night, read words on the pages of a book, and even interpret facial expressions.
Cataracts can also affect children. There are a few factors like genetics, metabolic disorders, including diabetes, and even eye injury that can increase your child's chance of developing pediatric cataracts.
Cataract Prevention
There are a few steps you can take to help prevent cataracts from forming, or slow down the development of your cataracts if you already have them.
It's essential to get sunglasses with 100% UVA/UVB protection and to wear them whenever you are outside, even if it is currently cloudy or overcast. Prolonged ultraviolet light exposure increases your chances of developing cataracts.
Ask your vision care provider about coatings and tints for sunglasses and glasses that can help shield your eyes from UV light. For patients who don't need prescription glasses, check the labels on non-prescription sunglasses for UV-A and UV-B protection or speak to your optometrist.
Make sure your diet is full of foods rich in antioxidants, which can help prevent cataracts from forming. Foods like this include:
Red beans
Blueberries
Pecans
Cranberries
Strawberries
Raspberries
Prunes
Apples, including Red Delicious, Granny Smith, and Gala
Artichokes
Dark green vegetables like kale and broccoli
Dry Eyes
4 out of 5 cataracts patients have dry eyes, which occurs when we can't produce enough tears or the tears we do produce aren't high enough quality to meet our needs. Depending on the root cause of your dry eyes, there are a variety of treatment and management strategies available, ranging from eye drops to tear-producing medication and prosthetics).
There is scientific evidence that taking steps to prevent dry eyes before cataract surgery can improve recovery time from the surgery, and even provide patients with clearer and more comfortable vision overall.
Getting a Cataract Surgery Referral
Despite all that can be done to slow the effects of cataracts, many of us will reach a point where the only way to enjoy clear vision again is to undergo cataract surgery. Fortunately, cataract surgery is safe and effective. The road to cataracts surgery begins with glasses, but it hinges on getting a referral to an ophthalmologist from your primary vision care provider.
If your visual acuity is 20/40 or less (while 20/20 is considered perfect vision) as a result of cataracts and you experience glare regularly, you might require surgery. However, eyeglasses can act as a workaround for many patients until the surgery is required.
Very thick anti-cataract glasses used to be the only way to manage cataracts, but the invention of IOLs (intraocular lenses) has made them less common. IOLs are surgically implanted lenses designed to replace the natural lens of the eye.
If your vision is 20/50, you're at the point where you should seriously consider cataract surgery.
If cataracts, or any other condition, is impairing your vision, please speak to your optometrist about the vision correction options available to you.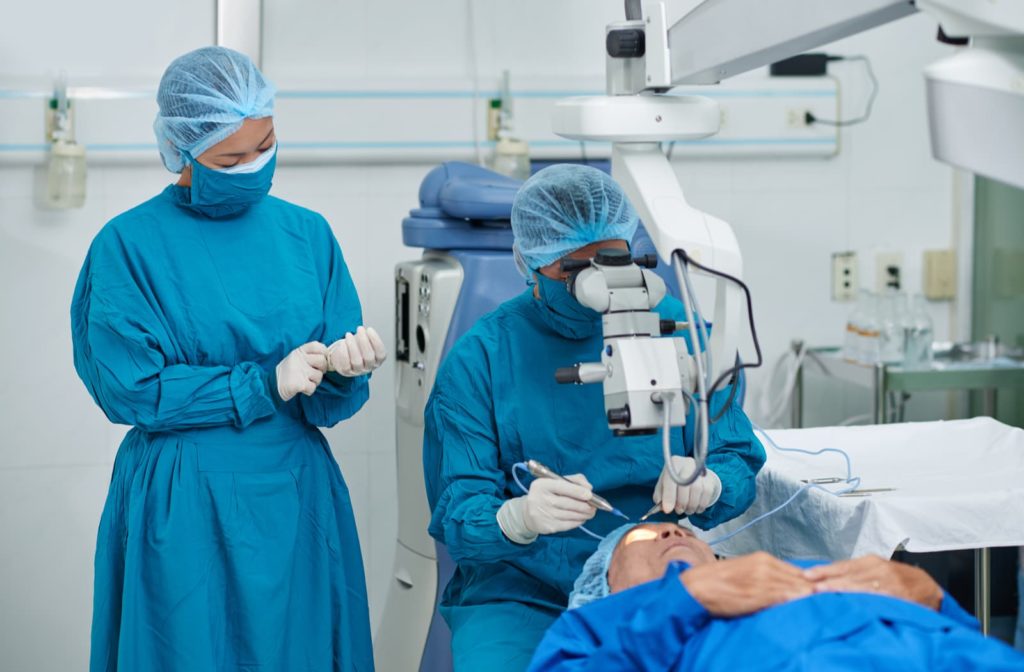 What You Can Expect from Cataract Surgery
Cataract surgery isn't usually done on both eyes at once. Many older patients require extra time to recover, so if you require surgery on both eyes, most surgeons will schedule two separate surgeries to allow the eye the time it needs to heal fully before the other eye is operated on.
The good news is that cataract surgery is done on an outpatient basis, meaning you won't need to stay overnight to recover. The surgery and the recovery time is typically only a few hours at most.
Usually, an ophthalmologist can perform the surgery with just a local anesthetic. Very few people require general anesthesia. That's good news for older patients and very young patients who are slightly more likely to experience adverse side effects from general anesthesia.
IOLs aren't used for surgical patients under the age of 2, so the surgeon might implant contact lenses instead of using IOLs. Your surgeon and your optometrist will work with you to help determine which option is best suited to your unique needs.
When you schedule your surgery with an ophthalmologist, it's best to find out what type of lenses are covered under Alberta Health and which lenses are only partially covered. You may need to bear the full cost of some types of lenses. To find out what sort of coverage you have, please contact your insurance provider.
Cataract Surgery and Recovery
Some patients will find that their vision begins to cloud again, even after they have had IOLs implanted. This rare complication is caused by scars on the eye where the IOL sits but can be corrected using a procedure called a posterior capsulotomy. This procedure removes the scar tissue (sometimes called a "secondary cataract"). Your surgeon can tell you what your odds of developing a secondary cataract are.
It's important to get a surgeon you can trust, who has the right skill and experience for the job. That's why vision care providers like the ones at the Visionary Eye Centre only refer our patients to surgeons we have already carefully vetted. Surgery can cause a lot of doubt and anxiety, but our team will be with you every step of the way. IOL and contact lens implant procedures have become a reliable path to clear vision for many cataract patients.