Are you considering making the change to contact lenses? Or maybe you're an experienced contact wearer but your prescription is outdated? Either way, getting the lenses that fit right and help you see the best requires an eye exam.
Contact lenses can be a convenient way to correct vision. But only when they fit and feel right. Let's discuss why contact lens exams matter and how contact lens fittings benefit your vision and your lifestyle.
If it's been more than a year since your last eye exam, it's time to book your next appointment at Visionary Eye Centre in Sherwood Park.
What is a Contact Lens Exam?
A contact lens exam is a comprehensive eye exam that includes a variety of tests to ensure your contact lenses are the right fit and prescription for you.
One common test performed during a contact lens exam is the slit lamp examination. This uses a bright light and microscope-like optics to allow our doctors to see the structures of your eyes in incredible detail. With this level of scrutiny, we can determine if your contacts are fitting comfortably and look for any signs of wear or infection.
Another critical part of eye exams for contact lenses is a measurement of the curvature of your eye's cornea. Your cornea must be accurately measured so that we can prescribe lenses with the correct power and shape.
Including a review of your medical history, other tests that will be performed during a contact lens exam:
Eye pressure measurement
Visual acuity & depth perception tests
Retinoscopy & refraction tests
Visual field test
Eye movement test
Pupil dilation
Astigmatism and Contact Lenses
Even if you have astigmatism, contact lenses can still provide great vision correction. To correct astigmatism, we'll need to measure its severity and determine the best contact lens design to help you see better. Because astigmatic lenses must be manufactured with a specific curve, measurements of your eye's cornea are even more important when fitting contacts for astigmatism.
There are many different types of contact lenses designed to correct astigmatism. Your eye doctor will help determine which type is best for you and recommend a trial pair of contacts.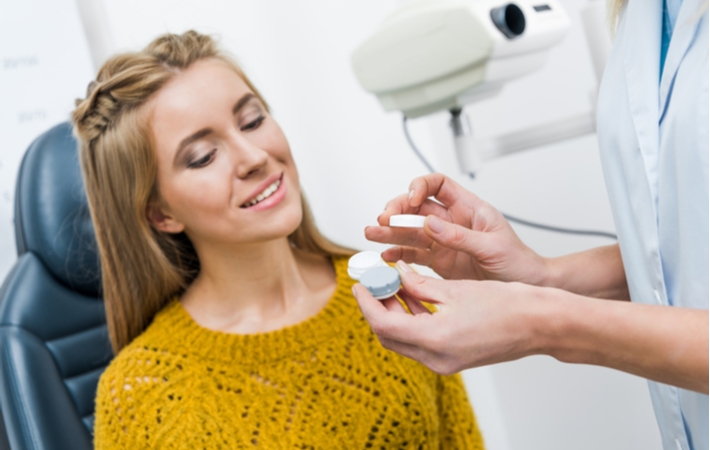 Why Do I Need a Contact Lens Exam?
Contact lenses are not one-size-fits-all. Just like eyeglasses, the prescription for contacts must be individualized to accurately correct your vision. And because everyone's eyes are different, not every type of contact lens will work for your eyes.
A comprehensive eye exam is essential to find the right prescription for contacts and ensure they fit comfortably and look great on your eyes. In addition to getting an accurate prescription, contact lens exams offer other benefits:
Evaluation of your contact lens prescription history
Determination of the health of your cornea
Check for signs of eye infection or inflammation
Contact Lens Complications
While contact lenses are generally very safe, there is a small risk of eye infection or other complications. Some common risks associated with contact lens wear include:
Eye infections, such as pink eye
Inflammation of the cornea (keratitis)
Allergic reactions to contact lens materials
Scratches on the surface of the eye (corneal abrasions)
Following proper wear and care guidelines will help prevent complications caused by contact lenses. Your eye doctor will make sure your care routine is sufficient during a contact lens exam.
If you experience any symptoms that concern you while wearing contacts, please remove them, schedule an appointment with an eye doctor, and wear your glasses until your eyes have been examined.
How Often Do I Need a Contact Lens Exam?
If you wear contacts, it's best to see an optometrist every year. This keeps your prescription updated and accurate and allows us to make sure your eyes are healthy. As contact lens technology continues to advance, an annual eye exam is also an opportunity for your eye doctor to recommend new products that may improve your vision.
However, if you have any problems with contact lenses or experience eye discomfort, you should see your optometrist right away. Visionary Eye Care Centre offers direct billing that makes receiving contact lens exams and purchasing your eyewear easier than ever.
How to Prepare for a Contact Lens Exam
If you're a new contact lens wearer, we'll need to take some measurements of your eye and fit you for contacts. In order to do this, it's helpful to bring the following items with you:
Your eyeglasses prescription
Contact lens prescription from your previous eye doctor (if applicable)
A list of any medications you're currently taking
Details about any allergies you may have
If you wear contact lenses already, we will likely just need an updated copy of your contact lens prescription. However, please bring or wear your current contact lenses so our staff can inspect them for signs of wear or infection.
Your Vision Partner After Your Exam
If you're interested in trying contact lenses, finding the right fit is the first step. Making sure our recommended lenses are working perfectly is another part of the process. You'll be provided with a trial pair of lenses following your eye exam and fitting.
If your trial pair gives you any discomfort or vision struggles, we'll move on to another lens suggestion. Receiving a contact lens exam has the added benefit of protecting you from an ill-advised purchase. You'll never go ahead with a year's supply until you're sure you've got the right contact lenses for your eyes.
At Visionary Eye Centre, we have the expertise and compassion to ensure your eyes are healthy and always feeling their best. So let us help you live comfortably and conveniently with a contact lens exam and fitting to help you see better.