New glasses are exciting for many reasons, whether it's a new prescription, frames, or specialty lenses. Once you've gotten your new lenses and frames picked out, your glasses are good to go. You won't feel comfortable in them right away, but can your new glasses cause eye strain?
What is Eye Strain?
Eye strain is a term used to describe several symptoms related to your eyes. These symptoms can include:
Headaches
Blurry vision
General discomfort
While these symptoms are uncomfortable and irritating, they don't lead to eye damage. Eye strain isn't an eye condition; it's typically a symptom of something else. It usually occurs when the eyes feel tired from overuse, like driving a car, reading, or working with digital screens.
Eye strain is annoying but usually subsides with time after resting your eyes. If you're frequently experiencing strained eyes, you should visit your optometrist for an evaluation. There may be many factors affecting your eyes, including your glasses.
Can New Glasses Cause Eye Strain?
New glasses can cause eye strain, but the cause can vary. You may find your new glasses are hard to use, give you headaches, or strain your eyes. Glasses can even lead to dizziness or nausea.
You can expect some of these reactions as you adjust to your new glasses, typically lasting a few days. After this adjustment period, you should feel more comfortable and have no side effects.
If you have strained eyes for more than a few days, something may be going on with your new glasses.
How Can New Glasses Irritate Your Eyes?
Your new glasses can strain your eyes, but what causes this to happen? Strained eyes can happen for many reasons, but there are a few causes related to your glasses, including:
Poorly fitted frames
Muscle strain
Multiple lens powers
Wrong prescription
Poorly Fitted Frames
Your new glasses are more than just lenses; you've likely gotten a new pair of frames. If your frames don't fit your face well, they can press against your head and cause eye strain. Glasses that fit too tightly on your nose or ears can lead to headaches and discomfort.
Getting your glasses from your optometry office can help avoid poorly fitted frames. They can help find glasses that fit properly. Visit your optometrist if your glasses are difficult to wear or leave pinch marks on your nose.
Muscle Strain
Your eye has 6 muscles that need to adjust to your new glasses. These muscles have to work harder while getting used to these lenses. This adjustment period can cause muscle strain within your eye and lead to a headache.
Multiple Lens Powers
It can be difficult to adjust to new glasses if you require multiple prescriptions. Conditions like presbyopia can require multifocal lenses like bifocals, trifocals, or progressives. These lenses have different corrective powers across the lens, and the transition between them can cause eye strain.
You look through the lens in the right spot to get the vision correction you require, and this new way of using your glasses can take a bit to get used to. You may experience headaches, nausea, or other symptoms as you adjust.
Wrong Prescription
There's always room for human error in an eye exam, and sometimes incorrect prescriptions happen. Issues can occur when measuring the space between your pupils; this measurement must be accurate, or it can result in strained eyes.
Additionally, the wrong prescription can cause headaches and eye strain. Your glasses may be too weak or too strong for your needs.
There's a period of adjustment any time you receive new glasses. These effects typically resolve in a few days, so contact your optometrist if any eye strain continues.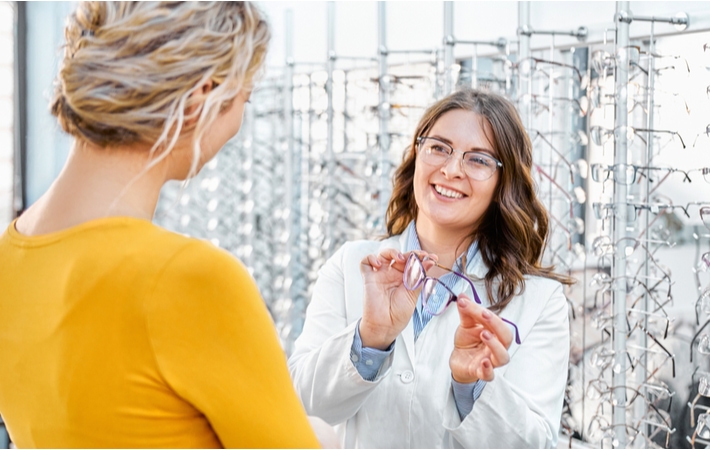 Tips for Avoiding Eye Strain
Eye strain can happen for many reasons, but you can try your best to prevent or reduce it. Look at the following tips and see how they can help if you're experiencing strained eyes.
Avoid Third-Party Suppliers
Online or third-party suppliers are tempting for convenience or cheaper deals, but these glasses may leave you with irritated eyes and a headache. Creating your glasses requires many measurements a professional must complete. These measurements don't happen when buying lenses online.
Visit your optometrist if you want effective and well-fitting glasses. Don't rely on poorly manufactured and fitted lenses from other sources.
Don't Go Back to Your Old Glasses
It can be tempting to use your old glasses for comfort, but this is ineffective. You need to adjust to your lenses, and the best way to do this is by sticking with your new glasses.
Rest Your Eyes When Necessary
Remember that your eyes need rest too. Take a break if you have a headache or strained eyes by removing your glasses and sitting in a dark room for at least 15 minutes.
A quick break can help relieve eye strain, discomfort, and headaches. Another option is to use a cold compress to ease your symptoms.
Get Properly Fitted Glasses
You need properly fitted glasses for your prescription to work effectively. Having your optometry team's help can ensure your glasses fit well. If your new frames feel tight, pinch your nose, or press behind your ears, visit your eye doctor for a readjustment.
Visit Your Optometrist for All of Your Ocular Needs
While your new glasses can take a bit to get used to, don't let eye strain rule your life. Take breaks, rest your eyes, and ensure your glasses fit well. The best way to ensure your glasses work effectively is to get them from your eye doctor. If you need a new pair of glasses, contact your optometrist today.