Whether you work outside or just love to play in the sunshine, sunglasses are an important part of caring for your eyes and vision. There isn't a one-size answer for what type of lenses you should have in your sunglasses, but polarized lenses are often a good choice.
Polarized lenses go through a chemical process that changes the way they filter light. Polarized lenses are great for many things outdoors, such as fishing, boaty, or snowy environments. But they do have some limitations, which we'll discuss below.
The ultimate goal should be to protect your eyes from glare and UV light to minimize your chances of developing some eye disease or conditions, such as age-related macular degeneration or glaucoma, that have been linked to UV exposure.
Polarized Lenses vs. Non-Polarized Lenses
Many people are aware of the various types of prescription eyeglasses lenses available. Not all sunglasses lenses are equal, either. For example, you can get polarized and non-polarized lenses—each with its own pros and cons.
Non-Polarized Lenses
Non-polarized lenses can have a prescription or just a tinted material, such as plastic or polycarbonate. Sunglasses with non-polarized lenses essentially treat all light the same and reduce its intensity so that you can see clearly in bright light without straining your eyes.
Many non-polarized sunglasses also offer UV protection. But they do not typically have any kind of anti-glare, and they don't filter light the same as a polarized lens. However, in certain jobs or outdoor activities that require seeing important digital screens, low-light driving, or changes of colour in the environment, a non-polarized lens may actually be the safer option.
Polarized Lenses
More than a tinted piece of plastic goes into making a polarized lens. A chemical is applied to the lens during its manufacturing that filters light.
Picture blinds hanging in a window. The only light you'll see is what passes around the blinds. The chemical in polarized lenses creates a similar effect as the molecules are lined up in horizontal lines that block all horizontal light waves. So, only light that approaches your eyes vertically is allowed to pass through the lens.
Benefits of Wearing Polarized Sunglasses
A practical example that demonstrates what a polarized lens does is being near water. On a sunny day the light from the sun will not only enter your eyes vertically, but when it bounces off the lake or river, it becomes a horizontal light wave, too.
In addition to causing a bright glare that can distort your vision, this could also contribute to strained eyes. Generally, you get a crisper and clearer view with a polarized lens. But it also typically makes things a little darker.
Are Polarized Lenses Always Better?
Polarized sunglasses are good in most everyday situations we find ourselves in, such as driving, boating, fishing, or playing sports like golf. Some situations where polarized sunglasses may be especially beneficial may include:
Driving
You may notice the mirroring effect on really hot days when hot air on the surface of the road meets with cooler air. Passing vehicles with the sun glinting off windows or the body can amplify the potential eye strain. Polarized lenses will typically cut most or all of the glare and provide increased comfort.
Playing On or By the Water
If you've spent any time around water during the summer—boating, fishing, waterskiing, etc.—you've likely noticed the glare off of the water. Regular sunglasses will typically reduce the amount your eyes need to strain, but "reading" the water may be difficult and there will still be glare. Polarized sunglasses will typically allow you to actually see much deeper under the water and cut the glare even more.
Outdoor Sports
Water sports aren't the only ones that can benefit from polarized sunglasses. Any time there is a chance for light to bounce off horizontal surfaces—especially shiny and reflective ones—polarized sunglasses could be beneficial.
Disadvantage Considerations for Polarized Sunglasses
While they are great for most people in many different situations, polarized sunglasses aren't for everyone. A few specific situations they may not be helpful include:
LCD displays and other digital screens often put out horizontal light. It can make the display look fuzzy or blurry when these directional waves are blocked by a polarized lens.
Night driving is not typically a good idea while wearing polarized lenses because of how much more dim they can make your vision. With that said, some polarized lenses are designed for low-light settings.
Some people report being dizzy or disoriented when wearing polarized sunglasses because of the way they filter light. And some people may find that the lenses cause a slight 3D effect on their vision which can cause depth perception issues.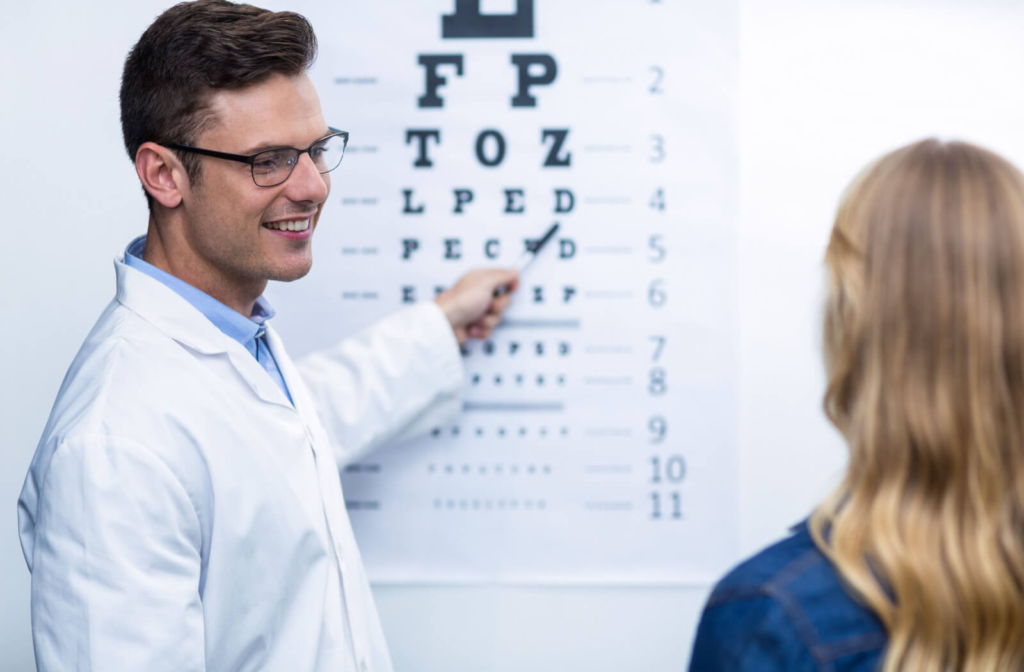 Discuss Lens Options with Your Optometrist
Sunglasses and eyewear don't have a one-size-fits-all answer. In many situations, a polarized lens may be great. But there are also some situations where a non-polarized lens may be better. If you're unsure which will suit your lifestyle best, ask an expert!
Give us a shout at Visionary Eye Centre. Our professional team can answer all your questions. Alternatively, you can stop by and see us, so we can help you try on frames to find the perfect pair and combine them with lenses that will fit your life.