If you're one of the many Canadians who rely on glasses to see, you probably already know the struggle of dirty lenses. A smudge or fingerprint can quickly get in the way of crystal-clear vision.
While you may be tempted to clean your glasses with the nearest tissue or t-shirt, doing so can cause scratches, smudges, and compromised vision. By cleaning your glasses the right way—with the proper supplies and techniques—you can ensure your glasses stay clean and in good condition for years to come.
The Importance of Cleaning Your Glasses the Right Way
Most eyeglass lenses are made of either glass or plastic. Glass lenses are heavy but more resistant to scratches, while plastic lenses are lightweight but prone to scratches. Additionally, modern eyewear often features special anti-reflective or anti-scratch coatings that require specific care to avoid damage.
It's important to note that glasses are a medical device, and they need to be handled as such. Scratches or other imperfections on your lenses can impact your visibility and irritate your eyes. Damaged lenses can sometimes lead to blurry vision, eye strain, and even headaches. Cleaning your glasses properly is essential for maintaining clear vision and prolonging the life of your eyewear.
Proper Cleaning Technique
Cleaning your glasses the right way doesn't need to be a strenuous process and only requires a few extra minutes to do well.
What You Need
Before diving into the cleaning process, make sure that you have all the necessary supplies on hand. You'll need:
Microfibre cloth: Unlike a towel or tissue, a microfibre cloth can safely clean your glasses without smearing or scratching them.
Cleaning solution: The best option is a spray specifically formulated for cleaning eyeglass lenses, but you can also use lotion-free dish soap.
A Step-by-Step Guide for Cleaning Your Glasses
To clean your glasses the right way, follow these steps:
Rinse: Start by rinsing your glasses under lukewarm water to remove any loose dirt or debris. Avoid using hot water, as it can damage certain lens coatings.
Soap up: Apply a spray of eyeglass cleaner or a small drop of mild, fragrance-free dish soap to each lens. Gently rub the soap or cleaner across the entire surface, including the frames and nose pads. Using a cleaner specifically designed for eyewear can help prevent damage.
Rinse again: Rinse your glasses thoroughly under lukewarm water to remove any remaining soap residue. Be gentle and avoid excessive force, as it can bend the frames or loosen the lenses.
Pat dry: Use a clean, lint-free microfibre cloth to gently pat your glasses dry. Avoid using towels or tissues, as they can leave behind lint or scratch the lenses. Microfibre cloths are ideal because they're soft and won't damage lens coatings.
Touch ups: For stubborn smudges or fingerprints, try using lens cleaning wipes or a cleaning solution specially formulated for glasses. These solutions usually come in a convenient spray bottle, making it easy to apply and wipe away marks.
Additional Tips for Cleaning Your Glasses
Following the proper step-by-step technique is a good starting point for caring for your glasses. Some other things to consider when caring for your glasses include:
Store your glasses properly: When not in use, store your glasses in a dedicated case to protect them from scratches, dust, and accidental damage. Avoid placing them face down on a surface or in extreme temperatures.
Regular cleanings: Make cleaning your glasses a regular habit. By incorporating it into your daily routine, you can maintain better visibility and prevent a buildup of dirt and debris.
See an optician for adjustments: If your glasses become misaligned or loose, visit an eyewear professional to adjust them. Attempting to adjust your glasses yourself can lead to further damage.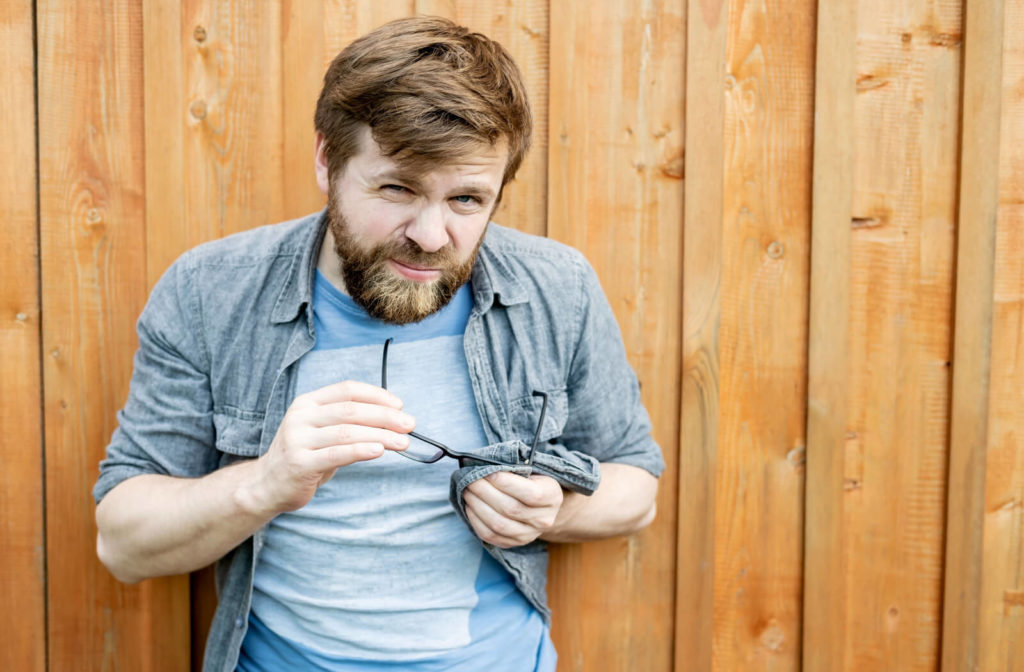 How Not to Clean Your Glasses
Now that we've established what to do when cleaning your glasses, let's touch on what not to do:
Don't use your shirt: Although tempting, avoid using your shirt, tie, or other fabric to clean your glasses. These materials can contain abrasive particles or dirt that can scratch your lenses. Using a tissue or paper towel to clean your glasses can also damage your lenses as they often contain particles of dust or dirt, which can gradually build up over time and scratch your lenses.
Avoid household cleaners: Household cleaners such as window cleaners and products that contain acetone can damage the lens coatings on your glasses, causing them to peel or degrade over time.
Find Quality Glasses Near You
Cleaning your glasses properly is a great way to prevent damage and ensure you get the most out of your eyewear. However, there are still times when you will need to replace your glasses, like when your prescription changes. 
Visionary Eye Centre offers a wide range of eyewear options, including the latest lens technology. Contact our team to learn more, or get started with an eye exam today!