Tired of cleaning contacts? No longer want to reach for glasses on your nightstand to see you when you wake up? If you want clear vision without wearing a corrective aid, LASIK may be for you.
LASIK is the abbreviation for laser in situ keratomileusis. Not only is it one of the most popular forms of laser eye surgery worldwide, but patients are generally thrilled with their results—studies show 95% of LASIK patients are satisfied with their post-op vision.
But what does LASIK entail? How do you know if LASIK will work for your eyes? And what does it even mean to have 20/20 vision, anyway? While all of those questions can be answered in detail at a consultation appointment with your optometrist, we've gone through some of the basics of LASIK here. Read on to discover more.
What Does the "20/20" in 20/20 Vision Mean?
The fraction in 20/20 vision represents what's called your visual acuity. Visual acuity measures the accuracy or clarity of your vision at a distance.
For example, if you've been told you have 20/20 vision, your eyes can see clearly at 20 feet what the average healthy eye can clearly at 20 feet. If you have 20/80 vision, you're able to see clearly at 80 feet what the average eye sees at 20 feet.
Visual acuity can be tested using a simple diagnostic tool: the Snellen chart. The Snellen chart has letters that start very large and get progressively smaller with each line. You know, the one you've seen in nearly every cartoon about an optometrist? This widespread tool has been used since its development in 1862.
It's worth noting that though 20/20 is often used to denote perfect vision, the eyes can still have diseases or hidden conditions, even if your vision is clear. That's what makes routinely scheduled eye exams such an essential part of your overall ocular health care.
How Does LASIK Work?
LASIK is what's known as refractive surgery. This means it fixes refractive errors—problems with how light bends as it enters your eye. This includes problems such as:
During a LASIK procedure, your eyes will be numbed with anesthetic drops. Then, a skilled surgeon will cut a thin flap in the outermost layer of your eye. A computer-programmed excimer laser will reshape your cornea to correct your refractive error.
The surgery time needed to correct both eyes is minimal, and the healing time with LASIK is also quick. Patients often find they experience side effects for a few days, with some mild side effects lingering for a few months. Still, their vision is clear soon after the surgery.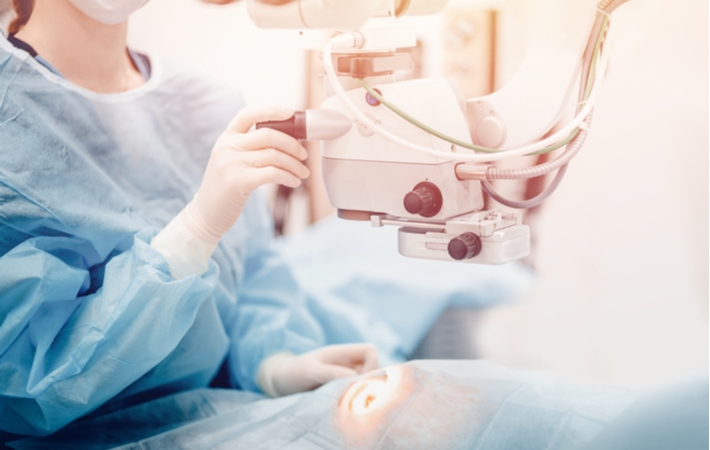 Am I a Candidate for LASIK?
Laser eye surgery sounds like something from a science fiction novel, and we're lucky to have access to such fantastic technology today. However, LASIK is not an appropriate procedure for everybody's eyes.
Promising candidates for LASIK will generally fall under the following criteria:
Over 18
At least a year with a stable eye prescription
Generally good health
Healthy eyes
Appropriately sized pupils
Thick, healthy corneas
Even if you meet the criteria, you must have realistic expectations about what LASIK can do for you. Depending on the level of correction needed, there is a chance you could still require corrective lenses.
Some people are unable to get LASIK. You should avoid LASIK if you have:
Thin corneas
Severe dry eye
A high level of refractive error
Recurring eye infections
Corneal scratches, ulcers, or disease
Advanced glaucoma
Vision affected by cataracts
Poorly controlled diabetes
LASIK Outcomes
So, does LASIK give you 20/20 vision? Most of the time, yes. According to The American Refractive Surgery Council, over 90% of patients who undergo LASIK achieve 20/20 vision. The success rate outside the 20/20 vision marker is still very high, with 99% of patients having better than 20/40 vision following LASIK.
Risks of LASIK
It always pays to read the fine print. LASIK, like any other medical procedure, is not without risks. Though overall, it is a safe and effective surgery that can be completed quickly, there are undesired outcomes on occasion.
Some of the reported adverse outcomes of LASIK include:
Halos
Glare
Double vision
Over or under correction
Flap problems
LASIK also cannot cure or prevent presbyopia, which is a normal part of aging. Even if LASIK offers you 20/20 vision, you will likely still need reading glasses as you get older.
Discuss Your LASIK Surgery at Visionary Eye Centre
Choosing to get LASIK is a big decision. At Visionary Eye Centre, we want to ensure you're armed with all the knowledge you need to make that choice comfortably. Visit the neighbourhood optometrist who knows your eyes and understands what vision correction solutions will suit you best to start your laser eye surgery journey.