Your eyesight is one of your most important senses. Booking an appointment with your optometrist is so much more than just a preventative measure. Sure, your optometrist can spot signs of many health conditions which can limit the development of eye disease, but eye health is so much more than that. Good vision contributes to overall brain and body health, and eye exams and eye care products can affect your athletic ability and mental ability, leading to an overall improvement in your quality of life.
We've all been told that we should get an eye exam or an eye test done at least once a year. But what exactly is the difference between the two? Although you may assume the two are the same, an eye test differs drastically from an eye exam. Here's everything you need to know about the two.
What is an Eye Test?
An eye test is only a small portion of what an optometrist does as part of a routine eye exam and its main purpose is to determine the prescription lens power needed by the patient getting tested. Eye tests are done using a combination of vision technology, computerized tests and automated instruments. Because f this, an eye test can be performed by anyone and doesn't require an optometrist.
Limitations of Eye Tests
Eye tests are extremely limited and are not as comprehensive or as accurate as an eye exam that is conducted by an optometrist. This can lead to receiving unreliable test results and is not considered a suitable measure to test for most health problems and diseases.
Some of the health conditions that cannot be detected through an eye test include:
Tumours – Brain or eye tumours, whether they are cancerous or benign, can have a serious impact on your overall health
Diabetic retinopathy – This occurs when blood vessels in your eye weaken, swell or change and can result in blindness
Retinal detachment – A condition where the retina partially or completely detaches from the back of the eye, which causes the retina to partially or fully stop working, and may lead to vision loss
Glaucoma – A serious eye disease that can seriously damage the optic nerve. If left untreated or undiagnosed from an early stage, glaucoma can lead to vision loss
When Should You Get an Eye Test?
As long as you know the difference between the two, and don't replace your annual eye exams with eye tests, it is okay to rely on eye tests to check your prescription needs. If there is a significant change in results from your last test or exam, we recommend that you discuss with your optometrist to ensure your results are accurate.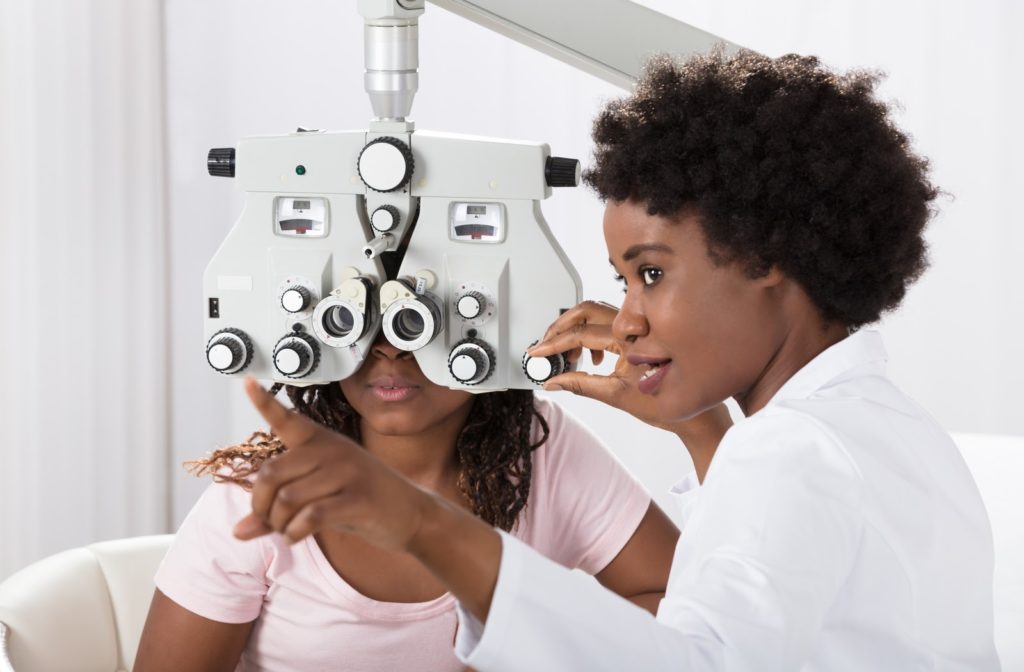 What is an Eye Exam?
Unlike an eye test, an eye exam checks your vision and the health of your entire visual system in addition to assessing or updating your prescription. An eye exam can only be conducted by a licensed optometrist, who can consult your medical records and past eye exams which enables them to catch diseases early and prevent the worsening of your overall health. Because of this, it's imperative to book an appointment to have your eyes examined annually.
Although an optometrist may use some of the same techniques used during an eye test, an optometrist can provide more accurate results due to their extensive training, experience, and professional judgement. Proper eye exams are simply the only way to receive health advice you can trust as well as receiving an accurate prescription.
What Does an Eye Exam Include?
Because eye exams are much more comprehensive than eye tests, there are many more steps included in the process. An average exam performed by your optometrist will include:
Consultation of your medical history and records. This allows your optometrist to compare your current results to past results and family history to assess your current and future eye health.
An evaluation of your current visual needs and demands.
Assessment relating to the health of the complete visual system, both inside and outside the eye, including eye coordination, depth perception, eye movement, overall vision and even neurological health
Eye disorder screenings test for diseases such as glaucoma, retinal detachment and diabetic retinopathy
Finally, an eye test is performed to determine potential treatment options including prescriptions
Why Getting Annual Eye Exams is Important
Getting an annual eye exam is extremely important, as most of the vision-threatening eye diseases mentioned above have little or no symptoms until it's too late to reverse them. Booking an appointment with your optometrist once a year is an important preventative step to keep your eyes healthy long-term.
Visit us at Visionary Eye Centre to ensure your continued eye health!