Finding the perfect glasses for yourself can be difficult, but finding a pair for your child may seem even harder. Luckily, children's eye exams are covered by Alberta Healthcare once a year until the age of 19. With so many different options, you need to consider all of your child's needs while getting them a pair of glasses they'll enjoy.
If you're looking to pick the best frames and lenses for your child, consider these 10 tips when making your choice.
Essential Tips
Make It Memorable
If your child is new to glasses, they may be a little resistant to the idea of wearing them. If they hate the frames or lenses, your child is less likely to wear their new glasses. Let your child help pick functional glasses they like; this can help them feel more comfortable and encourage them to wear their new eyewear.
Let your child lead the decision-making but be the deciding factor. Let your child focus on style while you focus on functionality.
Choose the Right Lens Material
Choosing the best lens material can be difficult with so many options available. Remember you're choosing lenses for your child, so you'll want something lightweight, durable, and damage-resistant.
You can avoid glass lenses right away; they can easily break and crack. There are many types of plastic lenses to choose from, but polycarbonate and trivex lenses are great options for your child.
Polycarbonate lenses are high index plastic with built-in UV protection. They are lightweight and are more impact-resistant than your average lenses.
Trivex lenses are similar to polycarbonate lenses. They are not as thin but typically have higher quality optics, providing clearer vision.
Find Your Child's Preferred Frames
You can feel more confident wearing glasses when you love your frames. If your child is new to glasses, they may feel uncomfortable or self-conscious. You can boost their confidence by giving them a pair of glasses they enjoy wearing.
Let your child find stylish frames they'll love wearing. Many kids like to feel like a grown-up, so you can always recommend a modern design. Offer your guidance but let your child settle on a style they feel confident wearing.
Choose the Best Frame Material
Most frames are plastic or metal. While plastic was the better choice for children, metal frames can have the same durability, weight, and cost as your standard plastic frame.
If your child has an allergy to certain materials in eyeglasses, such as nickel, consider frames suited for their unique needs. If you need guidance in this choice, ask your optician for advice.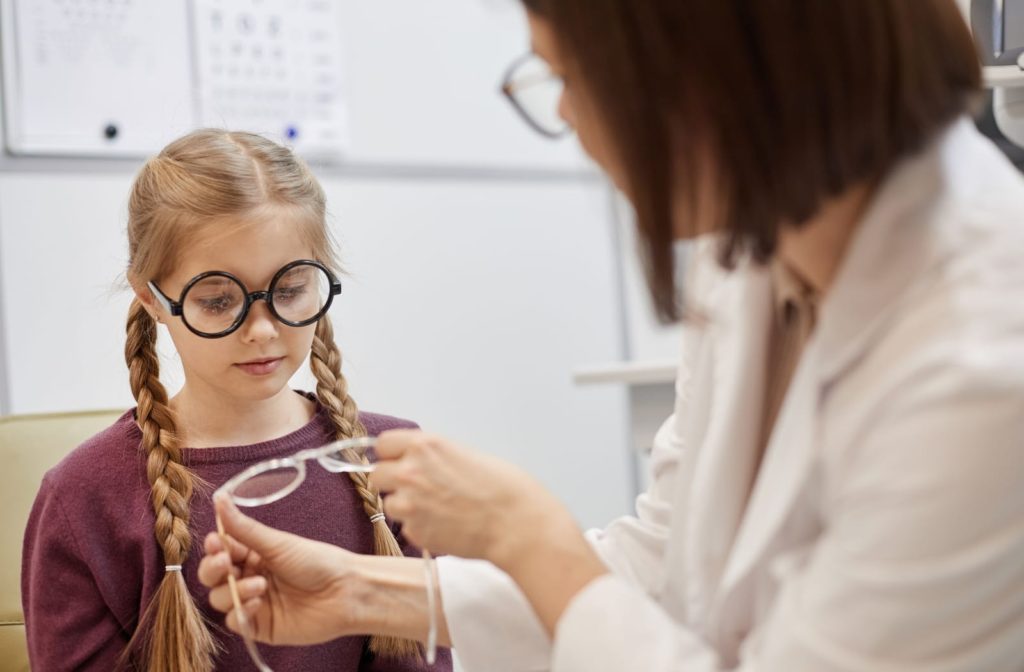 Necessary Details
Ensure Proper Bridge Fit
Your nose grows as you age, and your child's nose is still developing. Because of this, their nose may not be able to prevent frames from sliding down. Most metal frames have adjustable nose pads to help prevent sliding.
Without a proper fit, your child may not use their glasses properly or have to spend time consistently pushing their frames back into place. Before you make your final purchase, have your optician decide whether or not your child's chosen frames fit effectively.
Think About Transition Lenses
If your child spends a lot of time out in the sun, transition lenses may be worth the investment. The sun can damage our skin and eyes, and overexposure to UV rays can lead to several eye-related health concerns.
Transition lenses adapt when sunlight hits them, becoming darker and protecting your child's eyes. These lenses can remove the hassle of switching between sunglasses and regular glasses by providing UV protection to your child's prescription eyewear.
If you decide against transition lenses, make sure you bring a pair of sunglasses for your child when outdoors.
Consider Spring Hinges
Temples are the arms of your glasses. They wrap around your ears to keep your glasses secure throughout the day. Many people take their glasses off carefully to avoid damaging the temples, but children aren't always this careful.
You can avoid potential damage by investing in spring hinges. They allow the temples to move away from the frames, preventing potential damage.
Choose the Right Temple Style
Temples help to keep your child's glasses secured, but glasses can still fall off when your child looks directly down or has a rough day of playing. You can help ensure their glasses stay as secure as possible with different temple styles.
Some temple styles can completely wrap around the ears to secure them in place, known as cable temples. You can look into frames supported by elastic bands to keep your child's glasses safe.
Be Prepared
Consider a Warranty
Kids are kids, they're likely to play rough, have accidents, and take falls, and your child's glasses may break. When choosing new glasses, ask your optometry office about any warranty plans available.
These plans are helpful if your child is younger or new to glasses. Having a warranty can make those repairs and replacements feel less costly.
Have a Backup Pair
Finally, make sure to purchase a second pair of glasses for your child. You never know when glasses can completely break, and your child shouldn't go without clear vision.
Ask your optician if there are any discounts or deals available to buy a pair of secondary glasses. If their prescription hasn't changed, you can always keep your child's old glasses as an emergency backup.
Find the Best Glasses for Your Child
Finding the perfect glasses can be difficult, but these tips can help you find a durable pair your child loves. Remember to make sure your child's prescription is correct before buying their glasses. Contact your optometrist to book a children's eye exam or ask any glasses-related questions you may have.